Green Our Earth Power Your Vision
Overview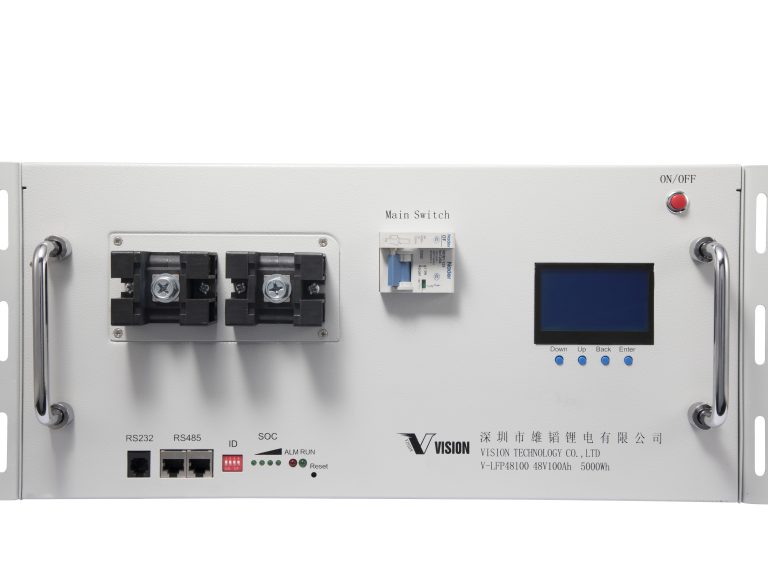 V-LFP 48V Series
The V-LFP series of lithium battery systems are high-tech products developed by Vision Group. This series has significant advantages as backup batteries for communication equipment, such as high power density, small size, long service life, resistance to high temperature, fast charging and discharging, and modular design.
Request Now
Characteristics
1. Positive electrode made of LiFePO4 (LFP), ensuring high safety and long service life.Charge/discharge cycles can be more than 4000 at the DOD of 85% and 35° Celsius.

2. Compatible with a variety of communication power supply devices.
3. Maintenance-free design, fitting in a 19-inch communications cabinet. Can independent disconnection of the battery in case of group mounting.
4. Built-in BMS system with multiple protection and communication functions(RS485 interface with Modbus protocol), which ensures high reliability of the battery pack and enables real-time monitoring of battery data over a long distance.
5. Low internal resistance, with efficient internal balance of the battery control circuit.
6. Wide working temperature range and high reliability.Charging temperature range from 0°C to +60°C, and discharging temperature range from -20°C to +60°C.
7. Support for parallel connection of battery packs.
Applications
1.Communication equipment rooms
2.Outdoor base stations
General Specifications
Model
Rated Capacity (Ah)
Rated Voltage (V)
Dimensions (mm)
Weight (kg)
Terminal Type
W
D
H
V-LFP48V10Ah
10
48
442
285
44
8
DSTB8-2-2-M6
V-LFP48V20Ah
20
48
442
300
88
13
DSTB8-2-2-M6
V-LFP48V30Ah
30
48
442
380
88
23
DSTB8-2-2-M6
V-LFP48V40Ah
40
48
442
430
88
25
DSTB8-2-2-M6
V-LFP48V50Ah
50
48
442
440
135
31
DSTB8-2-2-M6
V-LFP48V80Ah
80
48
442
480
177
42
DSTB8-2-2-M6
V-LFP48100
100
48
442
400
177
40
DSTB8-2-2-M6