News
World Carbon Conference - Vision Hydrogen Energy helps the industry to develop with high quality
Recently, the first World Carbon Summit was successfully held in Longgang District, Shenzhen.
Dr. Chen Hong, Vice President of Vision, was invited to attend the event and delivered a keynote speech on "Vision Battery's hydrogen energy helps the industry to develop with high quality".
Rapid development of hydrogen energy worldwide

In recent years, the domestic hydrogen energy vehicle industry has been developing steadily and innovations have been emerging. The Medium and Long-term Plan for the Development of Hydrogen Energy Industry (2021-2035) jointly issued by the National Development and Reform Commission and the National Energy Administration states that it is necessary to "orderly promote the demonstration application of hydrogen energy in the field of transportation" and proposes that by 2025, "the number of fuel cell vehicles will be about 50,000 and a number of hydrogen refuelling stations will be deployed. The development target is to "build a number of hydrogen refuelling stations".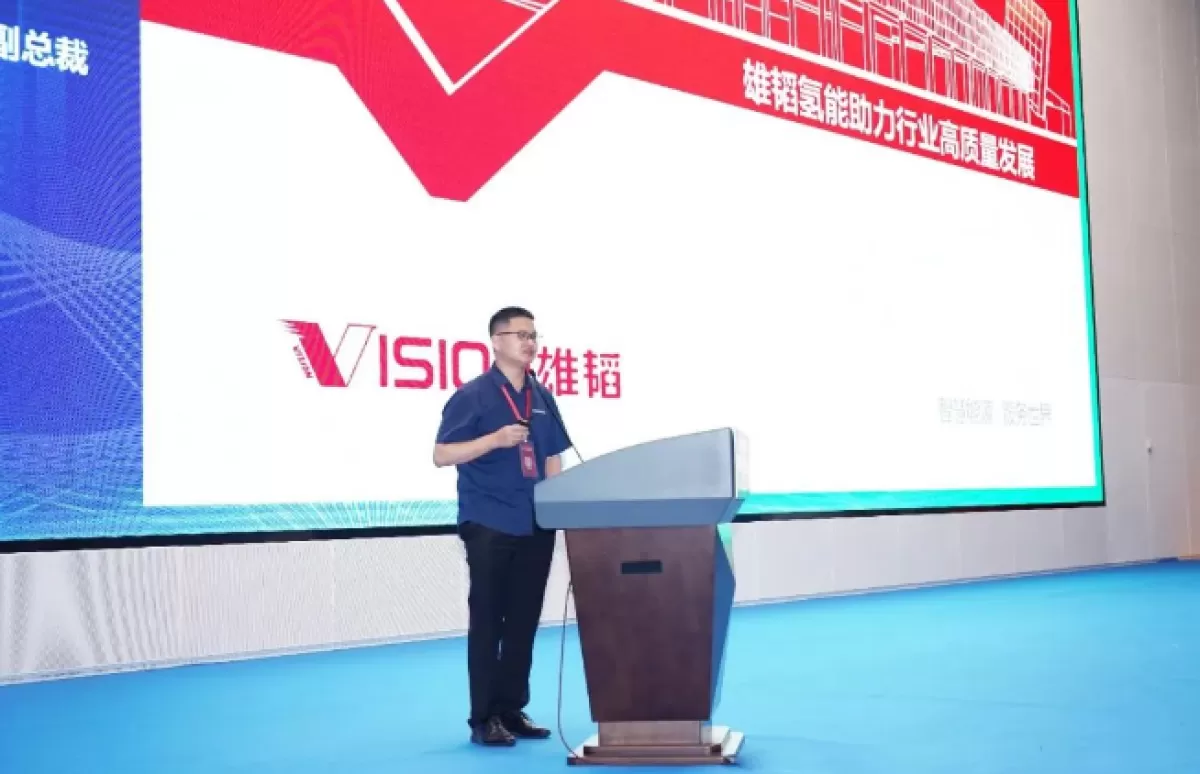 Countries and regions such as the US, Japan, Europe and South Korea have accelerated the layout of the hydrogen energy industry chain. The International Hydrogen Energy Commission predicts that the global hydrogen energy industry will create 30 million jobs, reduce 6 billion tons of CO2 emissions and create a market size of USD 2.5 trillion in 2050.

Vision Hydrogen helps the industry to develop with high quality

Vision Hydrogen has completed the layout of key links in the hydrogen energy industry chain, such as hydrogen production, membrane electrodes, fuel cell power stacks, fuel cell engine systems and vehicle operations. At the same time, the company has invested in research and development in various fields such as low platinum-carrying catalysts, membrane electrodes and aluminum hydrogen production, and has achieved milestones.

Vision Hydrogen is committed to creating products that are "affordable and reliable for users" and to winning the market with well-polished and proven products. Dr. Chen Hong said, "The real market should be the market obtained by product quality, we have to return to product thinking to do things".

Vision Hydrogen seeks globalisation

Vision Group has invested in hydrogen energy bases in many places in China. Through reasonable industrial planning and investment layout, it has grown into a Chinese company with a complete industrial chain of domestically produced hydrogen fuel cells.

After getting sufficient experience in the domestic market competition, Vision Group has set its eyes on overseas. "The Vision Group's own business covers the world and has a good brand image globally. Hydrogen samples are now available to customers, aiming to develop the European fuel cell vehicle and hydrogen storage market." Dr Chen Hong revealed that the company has also established a hydrogen energy research institute in Europe.
The conference was guided by the People's Government of Longgang District, Shenzhen and hosted by the Development and Reform Bureau of Longgang District. The conference invited authoritative experts, outstanding entrepreneurs and industry elites from upstream, midstream and downstream of the hydrogen energy industry chain to gather in Shenzhen International Low Carbon City to analyze the future development trend and hot spots of hydrogen energy and other industries, and explore new technologies for the development of hydrogen energy industry together.

Vision Hydrogen Team is committed to the field of hydrogen fuel cell, relying on its rich technical experience and top core technology, it has developed and provided the domestic leading engine products and domestic leading power stack products for the energy industry. In the future, Vision Hydrogen Team will continue to carry out R&D innovation, accelerate the commercialization process, and promote the layout of the whole hydrogen energy industry chain, striving to grow into a global leader in hydrogen fuel cell technology.