News
Vision HydraV and Qingdao International Academician HydraV win prizes in"Trendbank Hydrogen Energy & Fuel Cell Annual Conference 2021"
"Trendbank Hydrogen Energy & Fuel Cell Annual Conference 2021" & "Trendbank Future Awards Ceremony" was held from January 10th to January 12th, 2022 at Sofitel Shanghai Sheshan Oriental Resort, gathering various companies of hydrogen energy production, storage and transportation, fuel cell systems, stacks, materials, and equipment.
In the "Trendbank Future Awards Ceremony", Vision Group HydraV won "Annual Technology Force Award" while Qingdao International Academician HydraV("青岛国际院士港氢雄") won "Annual Industrial Zone Award".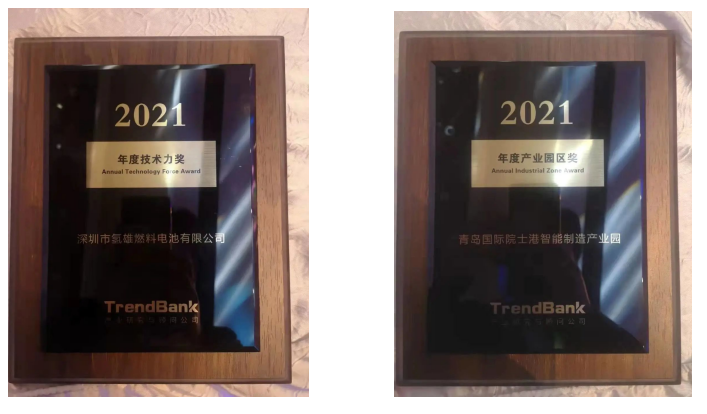 Vision Group strives to build a complete fuel cell localization industry chain from engine system integration to its core components, and established subsidiaries in Wuhan, Guangzhou, Shanghai, Datong, Yangquan and Qingdao, building a large pattern of regional coordinated development.
HydraV insists on technology leading and application pioneering in the forefront
HydraV adheres to technology leadership, takes advanced technology as its core competitiveness, concentrates advantageous engineering and R&D resources, and builds a R&D technology platform with the core of system applications, engines, and power electronics. On the basis of the advantages of volume specific power density and mass specific power density, Hydra V focuses on the development of key technologies of hydrogen fuel cells and the expansion of more application scenarios.
HydraV focus on the collaboration among industry, university and R&D, and achievement transformation
HydraV has cooperated with various key universities nationally which are professional and specialized in hydrogen fuel cell industry.
Cooperates with Wuhan University of Technology to develop ejector.
Cooperates with Tongji University in system integration & control (silencer, integrated controller and core control algorithm).
Cooperates with South China University of Technology on two government-funded projects, which is catalyst and membrane electrode.
Cooperates with Taiyuan University of Technology to carry out system joint development.
At present, HydraV hydrogen fuel cell engine system covers two series of VISH and VISTAH, and the power ranges from 52 to 130KW, achieving outstanding results in the fields of vehicle, marine and construction machinery.
By analyzing the long-term accumulated operational data, HydraV continuously optimizes and upgrades products to provide higher-quality product models for the industry. At the same time, through the analysis of the real-time data of vehicles, HydraV provides customers with practical and feasible operation suggestions for vehicle operation, assists the commercial operation of fuel cells, and promotes the high-quality development of low-carbon industries.