News
Vision Group won The Annual Enterprise Award in the GaoGONG Annual Meeting and Golden Globe Award Ceremony
The GaoGONG Annual Meeting and Golden Globe Award ceremony, sponsored by Vision Group, lasted for three days from December 12th to December 14th, 2021. The ceremony involved the entire industrial chain of hydrogen energy, fuel cells, materials, components and equipment, with more than 800 industrial experts, enterprise leaders, and investment elites being present, discussing about the development of hydrogen energy in the future and exploring technology trends.
Huanong Zhang, the president of Vision Group, attended the event and delivered the opening speech that expressed great confidence of the promising future of Hydrogen industry.
" In the past year, Chinese hydrogen energy industry has made great progress, showing good signs of the hydrogen industry, including the implementation of exemplary policies, two-thirds of state-owned enterprise investing in hydrogen energy, and foreign companies investing in the Chinese market. At present, Vision Group is paying great attention on water-electrolytic hydrogen(SOEC) and the excellence of the fuel cell technology performance. Under the background of exemplary policies implementation, Vision Group will live up to the era of hydrogen energy and work together with upstream and downstream industry chain enterprises."——By Huanong, Zhang, the president of Vision Group.
On December 12th, 2021, Dr. Gao, chief engineer of Shenzhen Senergy Fuel Cell Technology Co.,Ltd, made a speech and introduced the development progress of hydrogen fuel cell battery pile and the layout of the new type of battery pile.
" We want to provide battery pile that customers can afford and use with confidence. Simply put, that is cost-effective, high-quality and high-safety products. It sounds simple but with lots of work to do, including how to unite upstream and downstream to substitute for localization and how to achieve modularization and Monomerization. With more than 30-years history of developing and manufacturing batteries, Vision Group unswervingly adhere to the customer-centric tenet, implementing all the details into the developing process, including product development, quality control, production line layout and big data analysis, to deliver satisfaction to our customers."——By Dr. Gao, chief engineer of Shenzhen Senergy Fuel Cell Technology Co.,Ltd.
On December 13th, 2021, Dr. Zhan, Chief electronic-technology director of Vision HydraV Fuel Cell Co.,Ltd, claims that HydraV insists on finding its independent development of sustainable fuel cell path through the comprehensive integration development of production, learning, and research.
"We are application-oriented, combining the strength of universities supply chains to enhance technology. At the same time, we concentrate on improving the efficiency, service life and reliability of our products, and continuously improve product performance in actual loading applications. So far, 318 hydrogen energy vehicles, equipped with the HydraV hydrogen fuel cell system, have been put into operation in batches, with a total mileage of more than 10 million kilometers and achieve emission reduction of 15 million kilograms."—— By Dr. Zhan, Chief electronic-technology director of Vision HydraV Fuel Cell Co.,Ltd.
In the Award Ceremony, Vision Group has won 2021 Annual Enterprise Award. HydraV has won 2021 Annual Innovative Application Award.
At present, HydraV has matched 20 fuel cell buses, 47 fuel cell trucks or chassis and 4 application models in construction machinery field into the Ministry of Industry and Information Technology's announcement catalog. A total of 240 fuel cell vehicles including buses, heavy trucks, and logistics have been put into demonstration Operation, with more than 10 million kilometers mileage.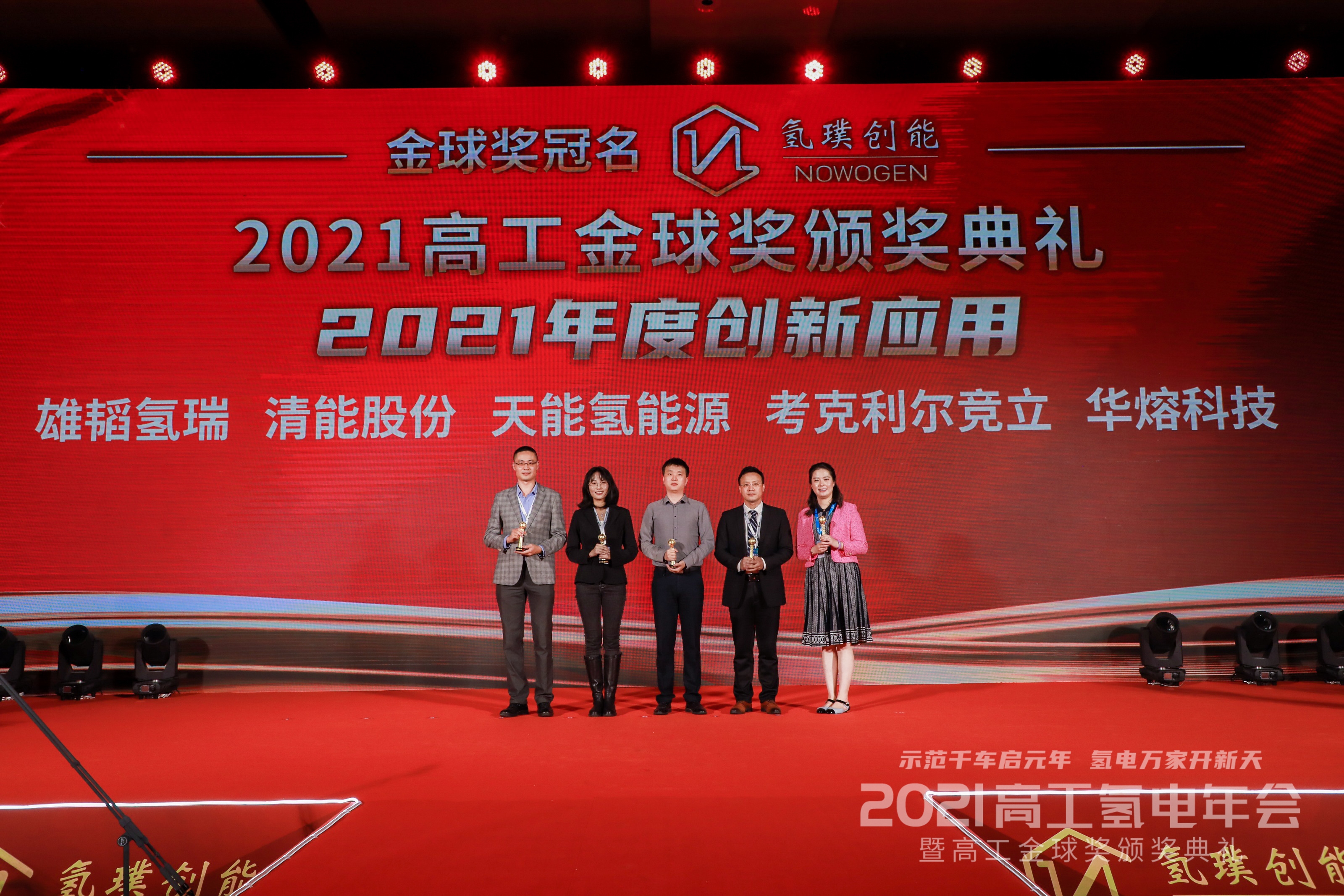 As a global leader in fuel cell solutions, Vision Group will continue to use leading solutions and a complete industrial chain to lead the industry to seize development opportunities, build a smart and environmental friendly hydrogen energy ecosystem. We will collaborate with upstream and downstream partners in the industry to jointly explore the world of hydrogen energy.