News
Vision Group obtained the UL9540A test report certificate and the UL1973 system certification certificate
On May 26, 2021, Vision Group obtained the UL9540A test report certificate and UL1973 system certification issued by UL. This time, Vision Group obtained both certificates, setting a new safety model for the lithium industry and leading the industry to a higher level.
In recent years, China's new energy industry has shown a good growth trend. As an emerging technology industry, the safety of energy storage system has always been a concern.
UL is a world-renowned testing and certification organization. It has been deeply involved in the field of power and energy storage battery safety technology for more than 30 years. The UL 9540A test report issued by UL began in 2016, and was researched and drafted at the invitation of the New York City Fire Department. During the period, UL conducted a cross-field joint development with scientific and engineering experts from multiple departments for more than a year, and extensively solicited opinions and suggestions from the fire protection, construction and other regulatory agencies and industry experts across the United States. Finally, the first version of the UL 9540A test standard was officially released in November 2017, and it has now been updated to the fourth version, becoming the national test standard for the United States and Canada.
This time, Vision Group has obtained UL1973 system certification: 512V40Ah system, 512V50Ah system and 512V100Ah system. At the same time, the system-level UL9540A is undergoing certification testing.
Vision Group has obtained UL9540A and UL1973 cell certification: 3.2V20Ah cell and 3.2V50Ah cell.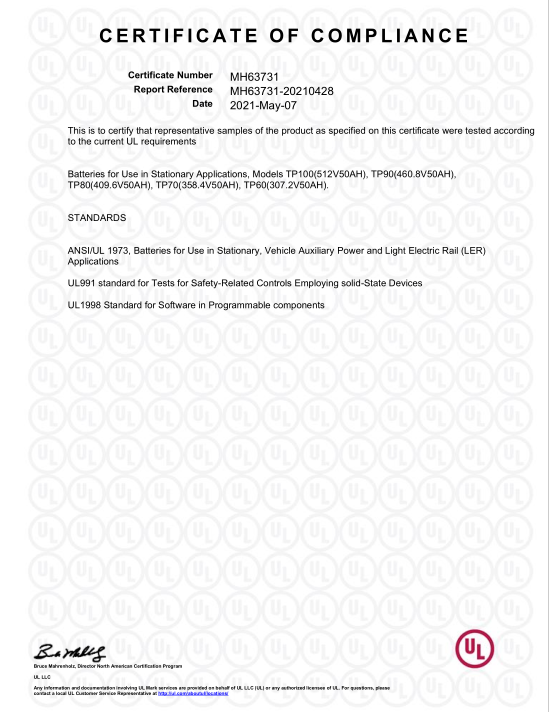 REVO-We know UPS. It is the lithium battery product that is independently developed by Vision Group and is suitable for all types of UPS. REVO adopts the high-rate LFP cells and the BMS system independently developed by Vision Group, which integrates remote cloud management system and intelligent fire protection module, which has high reliability, good stability, long service life and excellent safety performance.