News
Vision Battery won three awards
November 28-30, Shenzhen, China, "2022 GaoGong Hydrogen Annual Conference" was successfully held under the title of Vision Battery. In recent years, national and local government hydrogen energy policies have been introduced intensively, and fuel cell demonstration policies have been implemented gradually, and the elites and technical experts of the industry discussed the topics of "how to seize the policy window to enhance the survival toughness and bold innovation to come out of the new pattern". "Black technology".
On November 28, Dr. Chen Hong, Vice President of Vision Battery, was invited to attend and give an opening speech.
Dr. Chen Hong: "Since this year, very many policies have been introduced in China, involving all aspects of production, storage, transportation, processing and use, to empower the development of the whole industry. At the same time, more and more enterprises of various types and scales are joining the team to develop hydrogen energy, hoping to seize the trillion market opportunity in the future.

Vision Battery has been involved in this industry since 2014, and is the front-runner in the industry. This year, we still focus on two aspects: first, innovation drives the leapfrog development of the industry, and we join hands with industry chain partners to promote energy transformation; second, we are committed to increasing efficiency and reducing costs. To make fuel cell products that are truly affordable and safe for users is our goal in marketing.
On November 29, Dr. Li Jianyi of Vision Central Research Institute delivered a keynote speech on "Development of new paper electrode stack", in which Dr. Li unveiled the mystery of Vision Battery's paper electrode stack products and aroused strong curiosity and attention from the audience.
Dr. Li Jianyi: "The current graphite bipolar plate and metal bipolar plate have their own advantages and shortcomings, for example, graphite bipolar plate disadvantages are thin thickness and low bending strength, and metal bipolar plate disadvantages are passivation layer corrosion and low life span. And the paper electrode plate developed by Vision Battery avoids the disadvantages of both plate types and has various advantages such as high strength, thin thickness, long life, light weight and low cost."
On November 30, Dr. Gani, CTO of Vision Hydrogen, member of German Academy of Engineering and consultant of Qingdao International Academician Port Industry Development, delivered a keynote speech on "Hydrogen Energy Development under the Double Carbon Trend" during the conference. Gani's humor and professionalism convinced the audience.
Dr. Gani: At present, the world is acutely aware of the need to protect the environment and to enable clean energy. There are many types of energy sources, and hydrogen is one of the most economical and efficient forms of energy storage and utilization. Our medium-term goal for hydrogen energy is to put 2,000 fuel cell heavy trucks into operation by 2025, which will reduce emissions by 240,000 tons per year, and 1,000 fuel cell buses by 2025, which will reduce emissions by 120,000 tons per year. By 2025, the total emission reduction can reach 360,000 tons.

In the award ceremony, Zhang Huanong, Chairman of Vision Battery was awarded "2022 Person of the Year", Vision HydraV Fuel Cell was awarded "2022 Enterprise of the Year", and Vision Senergy Fuel Cell was awarded "2022 Innovative Application of the Year". "!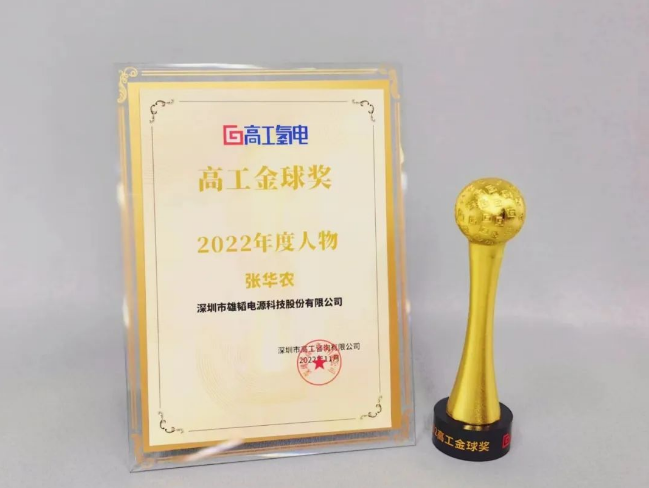 Currently, Vision's hydrogen energy products have rich application examples all over the country. Through innovative products and cutting-edge technology, they inject clean power into more cities and help customers achieve low-carbon transformation and upgrade. Vision Battery will continue to work with customers and partners to continue to empower the industry with technology and work together to promote the high-quality development of China's fuel cell industry.