News
Vision Battery receives two letters of appointment as "consultant" and "expert consultant
Recently, Vision Battery, a pioneer in the field of hydrogen energy, was awarded the "Consultant" certificate by the HFC World Hydrogen and Fuel Cell Industry Expo, and Dr. Chen Hong, General Manager of Shenzhen HydraV Fuel Cell Co., Ltd., (One of the Vision Battery's subsidiaries)was awarded the "Expert Consultant" certificate by the Expo. The appointment letter highlights our R&D strength, technological innovation and brand influence in the field of hydrogen energy.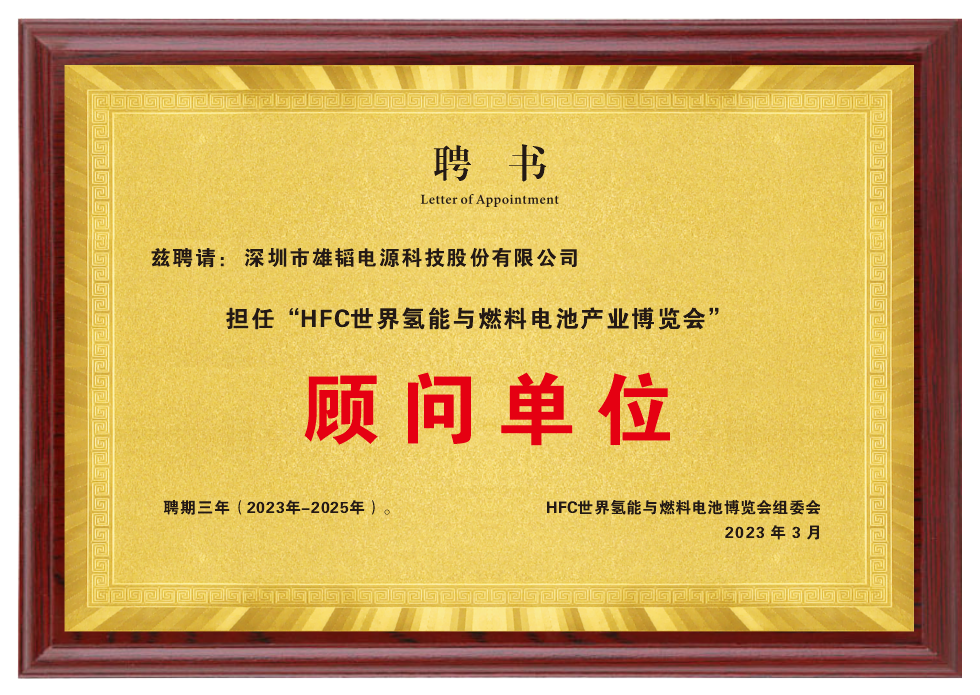 Dr. Chen Hong is the core management personnel of the company, with more than 20 years of experience in battery R&D and management operation. He has received honorary certificates such as PMP International Project Manager Certificate, Chemical Engineering Senior Engineer, Shenzhen Longgang District Science and Technology Innovation Award, Shenzhen High Level Professional Talent Certificate. His management footprint covers lead-acid batteries, lithium batteries, hydrogen fuel cells, sodium batteries and other fields. He is a well-known expert in the battery industry, among which he has applied for over 41 patents in the field of fuel cells and has achieved a series of research results.
HFC World Hydrogen and Fuel Cell Industry Expo is one of the important exhibitions in the global hydrogen energy field, which brings together experts, scholars and business leaders in the industry, and is an important platform to showcase the achievements of hydrogen energy technology and promote the application of hydrogen energy. The awarding of the appointment letter to the company and Dr. Chen Hong is a recognition of Vision Battery's deep commitment and innovation in the field of hydrogen energy and validates the company's popularity and influence in the energy field.

Currently, the hydrogen energy industry is a national strategic emerging industry and a key development direction for future industries, and has become a hot track for a new round of regional competition. As a leading enterprise in the hydrogen energy field, Vision Battery has become an important promoter and innovator in China's hydrogen energy industry.

In the future, as the global hydrogen energy market continues to expand and the technology continues to innovate, Vision Battery will continue to increase its investment and R&D efforts in the hydrogen energy field, adhering to the concept of "smart energy serving the world", promoting the innovation and application of hydrogen energy technology, and making greater contributions to the global energy transition and sustainable development.