News
The "2022 (4th) Gaogong Hydrogen Industry Summit (South China Station)" held in Shenzhen
From May 31 to June 1, 2022, Shenzhen, China, the "2022 (4th) Gaogong Hydrogen Industry Summit (South China Station)" was held. More than 500 industry experts, business leaders and investment elites attended the event to predict the future trend of the industry and explore the boundary breakthrough point.
Mr. Ji Fan Ting, Vice President of Vision Group, was invited to give an opening speech at the event.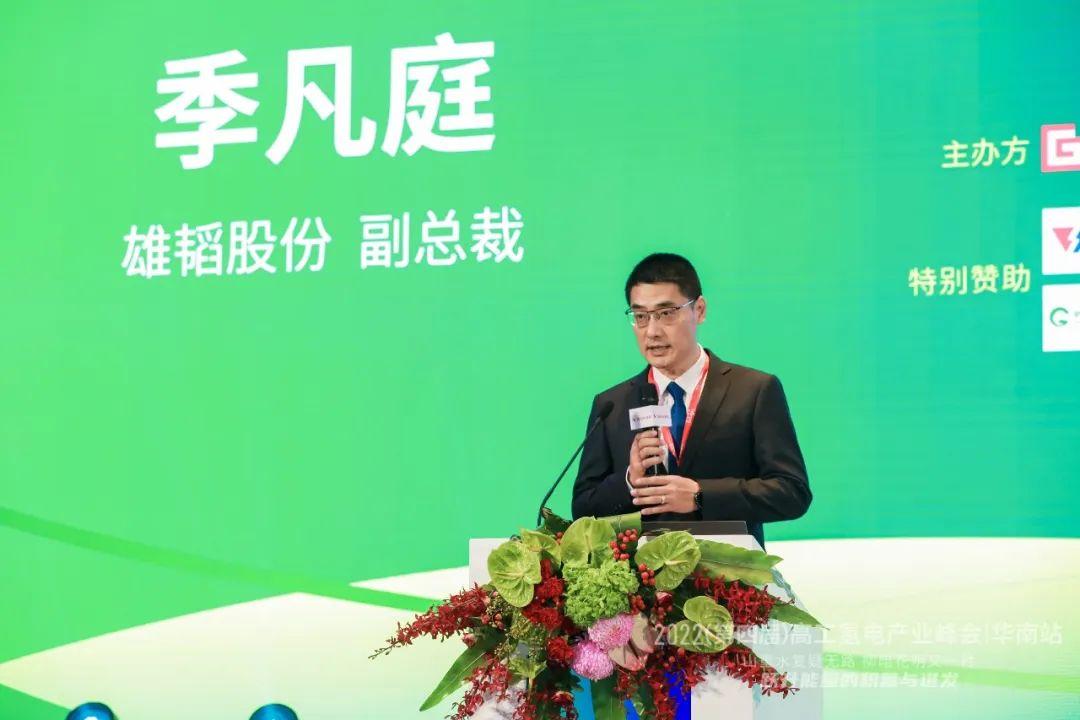 Ji Fanting: "Countries generally have high hopes for hydrogen energy, and it is expected that the energy revolution represented by hydrogen is inevitable. We believe that many of them have already taken the first-mover advantage in technology and market, and Xiongtao has also invested in hydrogen energy bases in many places in China.

How can we maintain and expand this advantage in the future and how can we make a name for ourselves in the Chinese brand? We welcome ambitious friends to cooperate with Xiongtao to build new technologies and new business models. As the theme of this year's conference is, together we will leap forward to accumulate and burst forth with energy!"

On May 31, Dr. Yang Jiao from Vision's Central Research Institute delivered a keynote speech on "Fuel Cell Metal Bipolar Plate Materials and Coating Research" at the summit.
Dr. Jiao Yang: "Future research lines for metal bipolar plate plating: 1. High conductivity, high corrosion resistance coating - basic requirements; 2. Suitable hardness - improve stability; 3. Ultra-thin - reduce body resistance; 4. Low cost and Batch preparation-promote the commercial process of metal plates."
The opening roundtable discussion focused on "How to deal with the profound impact of the epidemic on your business? and other topics were discussed. Dr. Gao Pengran, Chief Engineer of Shenzhen Senergy Fuel Cell Technology Co., Ltd.said that under the epidemic, enterprises should: 1) be down-to-earth, group together and form their own circle of friends to achieve a win-win situation; 2) develop and expand diversified application scenarios and explore new demands; 3) do more detailed and solid basic research to accumulate development energy; and 4) expand new businesses across borders.


On June 1st, Dr. Tang Tingjiang, Director of R&D at Shenzhen HydraV Fuel Cell Co., Ltd., delivered a keynote speech during the conference on "The road to independent and sustainable development based on pain points".
Dr. Tang Tingjiang: The two major pain points of fuel cell product applications are the relatively poor stability and high product cost (acquisition and use cost). The comprehensive cost reduction plan for fuel cell engine products should be based on four aspects: cost reduction of core components, cost reduction of design optimization, cost reduction of scale manufacturing and cost reduction of secondary utilization. The cost reduction will be reduced by 25%-30% per year.
The closing session featured a roundtable discussion on "What are the higher requirements for the fuel cell passenger vehicle industry chain? How can Chinese companies catch up with international companies?". Dr. Tang Tingjiang said that there is a lot of room for fuel cells to be used in passenger cars, and commercial vehicles will lay the foundation for the promotion of passenger cars in the future.
As a pioneer in the industry, Vision Group has invested and set up hydrogen energy bases in many places across China. Through reasonable industrial planning and investment layout, it has grown into a company with a complete industrial chain of domestically produced hydrogen fuel cells in China.
As a global leader in fuel cell solutions, we will continue to leverage our leading solutions and complete industry chain to lead the industry to seize development opportunities, build a smart and environmentally friendly hydrogen energy ecosystem, collaborate with upstream and downstream industry partners to explore the world of hydrogen energy, and continue to strive to achieve our dual carbon goals.