News
The 2014 "Vision Cup" Basketball Match
The 2014 "Vision Cup" Basketball Match
With the support of Labor Union, the 2014 "Vision Cup" basketball match, lasting for one month and a half, has come to a successful ending on Nov.14.
With the theme of "More Participation, More Wonderful and More Reasonable", this second "Vision Cup" basketball match aims to attract more employees to join in it, to make the match more exciting and schedule more reasonable. Participants consist of 7 teams coming from various departments, like the Enterprise department, Univision Battery Co. Ltd., Vision Technology Co. Ltd., Group Quality department, R&D System, Marketing System and Management System. 90 employees take part in it, twice more than that of last year.
It comes out three-point shot in the regular season. What is most exciting is that the match ends up with a three-point shot. As the match becoming more and more fierce, constant progress is also made by the players. In addition, teamwork spirit and morale among teams are also soaring up.
In playoff, much more amazing performance is shown to audience. Four teams fight for championship, Management System Team, Vision Technology Co. Ltd. Team, Group Quality Team as well as Marketing System Team. Vision Technology Co. Ltd. Team defeats Management System Team easily and wins the third place. Though Marketing System Team spares no effort to fight against its rival, it still lags behind by 5 points and becomes the runner-up. Because of its one-year internal regular training, Group Quality Team successfully wins and becomes the championship.
Apart from regular basketball games, Vision also calls on all the staff to join in other fitness campaigns. There are basketball games between 6:30 p.m. and 8:30 p.m. on every Monday and Thursday. A soaring number of staff becomes enjoying the balance of work and exercise. Everyone is warmly welcomed to join in the big family of fitness campaign.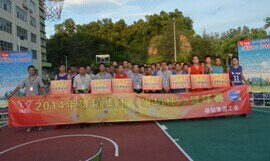 Executives Dilivering Openning Speech Opening Ceremony
President Zhang Participating Encouraging Staff to Join
in Award Ceremony in Sports by Distributing Basketballs