News
【Nature】DRIVING HYDROGEN FUEL CELLS INTO THE MAINSTREAM
By reducing the cost and improving the efficiency of hydrogen fuel cells for mass production, Chinese innovators are SPEARHEADING A HYDROGEN REVOLUTION.
Record-breaking heatwaves afflicted many parts of the world in 2022, highlighting the urgency of reducing impacts of the climate crisis. The transport sector, a major source of greenhouse gas emissions, has been seeking ways to reduce its footprint.
Over the past decade, the market for electric vehicles has rapidly increased in China, and existing lithium-ion-based battery technology is unlikely to meet society's growing needs, as these batteries are relatively slow to charge and have limited range. They also require significant quantities of non-renewable and unsustainable materials.

One of the most promising alternatives is hydrogen fuel cells, which use hydrogen to directly generate electricity via a reaction with oxygen, but the race is still very open as to which hydrogen fuel cell technologies will achieve broad uptake and commercialization for various applications.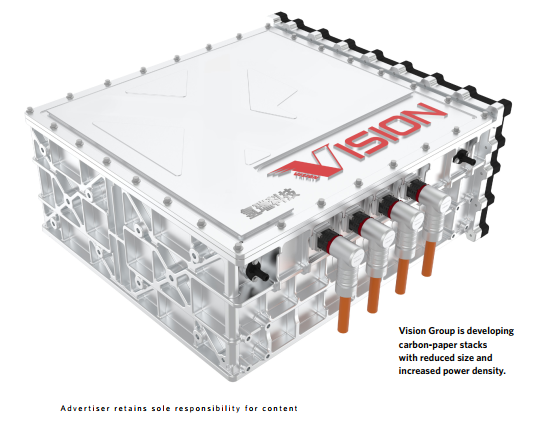 COMMERCIAL POWER

"Developing hydrogen energy has become a necessary path to achieve the goal of carbon neutrality," says Hong Chen, vice president of Shenzhen-based Vision Group, which has been manufacturing conventional batteries for nearly 30 years. "Hydrogen can overcome the consumption and storage problems associated with renewable wind and solar energy," he says, and offers a way to help businesses reduce carbon emissions.

Senergy, a subsidiary of Vision Group, is a rapidly growing innovator with a focus on accelerating the transition of fuel cell technologies from lab scale to mass production. The company sees transport as the main source demand for hydrogen fuel cells — a natural partner for batteries, as a lightweight, easily refuellable energy source to complement and replenish battery capacity and extend driving range.

"Our aim is to make high-quality,cost effective and safe hydrogen-based fuel cell stacks that consumers can afford and use with confidence," says Chen. "We are taking the lead in breaking the price barrier for fuel cell stacks by integrating the industrial chain, combining innovative and practical technologies, and assembling a talented R&D team."

A key component of hydrogen fuel cell stacks are bipolar plates, which conduct electricity from one cell to the next. The materials for bipolar plates are the subject of intense research and development to bring down costs, improve efficiency and reliability, and expand the safe operating temperature range.
COST EFFECTIVE

Thin sheets of graphite have emerged as leading materials for bipolar plates, offering high strength and resilience as well as corrosion resistance. Graphite is the key material in Senergy's 'A1' fuel cell stacks.

"Senergy's A1 stacks are one of the most cost-effective on the market," says Pengran Gao, head at the company's R&D and technology centre, "Our 40–80 kilowatt A1 model is priced at 999 yuan (US$140) per kilowatt, the lowest in the industry and well ahead of the national roadmap for fuel cell cost reduction."

The company has achieved this by using mass production technologies, such as moulding its proprietary plates, improving cell sealing, using open-mould injection instead of machine processing, and adopting advanced integrated automatic assembly processes. Senergy also uses locally sourced materials and components to further bring down costs. "By optimizing these technologies, we hope to cut the cost to around 600 yuan (US$84) per kilowatt by 2025," adds Chen.

Hydrogen fuel cells can achieve close to zero emissions.
By using mass production technologies, Senergy is bringing down fuel cell cost.
Senergy's carbon-based-paper plate is as thin as 0.3 millimetres and has excellent flexibility.

"OUR AIM IS TO MAKE HIGH-QUALITY, COST EFFECTIVE AND SAFE HYDROGEN FUEL CELL STACKS THAT CONSUMERS CAN AFFORD AND USE WITH CONFIDENCE."

Along with cost reductions, power output is a critical consideration for freight and transport applications. Through continuous testing and refinement, Senergy has achieved incremental improvements in fuel cell stack power density that meets the ever-growing demand for higher performance and integration into a wider array of applications.
CARBON IS KEY

"Our A1 graphite plate system provides a power output of 3.5 kilowatts per litre, sufficient on its own for a 10.5-metre bus with a consumption efficiency of 4 kg/100 km — 10% less than the industry average," says Chen. For a 47-tonne truck, the consumption of hydrogen is 11 kg/100 km — 15% less than the industry average.

Higher efficiency brings down the cost of hydrogen consumption. For a 31-tonne heavy-duty truck equipped with A1 stack, the cost of using hydrogen is about 3.5 yuan (US$0.5) per kilometre, which is comparable to the cost of using fossil fuels, according to Chen.

Carbon paper, however, will offer even better advantages for the company's second generation of fuel cell stacks.

"We are committed to developing new stack architectures based on materials such as carbon fibre reinforced paper, which has higher bending strength than graphite and better corrosion resistance than metal," explains Gao. Senergy has developed a carbon-paper-based plate as thin as 0.3 millimetres, which is up to 60% thinner than graphite and comparable to metal plates.

"This new type of bipolar plate opens up new possibilities for fuel cell stacks, " says Gao. Being thin and light, it can help reduce the size and weight of PAPER STACKTM, which is composed of carbon-paper-based plates and membranes.

This innovative carbon-paper-based plate offers many other advantages. As the output of lithium-ion batteries falls at low temperatures, Senergy's fuel cells have 'cold-start technology' that allows them to start at sub-zero temperatures. "Our carbon paper stacks can be activated quickly at temperatures down to -30 °C, which is also a breakthrough for the industry," says Chen.

The company is now attracting talent for materials research and actively investing in the carbon-paper-stack technology.

AN ELECTRIC PARTNERSHIP

Currently, Senergy's fuel cell stacks are widely used in commercial vehicles produced by Yutong Bus and Dongfeng Motor, and in passenger vehicles produced by Chery Automobile and Guangzhou Automobile, but Senergy is hoping to help even more manufacturers reduce their vehicles' environmental impact.

"From the perspective of raw materials and the whole industrial chain, fuel cells can achieve close to zero emissions," says Chen. "The increase in energy density is also incredible, from about a quarter of a kilowatt-hour per kilogram for lithium-ion batteries and about 12 kWh/kg for petrol, to up to 40 kWh/kg for hydrogen."

The company is now advancing the expansion of hydrogen energy to other fields. It has developed a fuel cell system for forklift trucks in factories, warehouses and logistic centres and fuel cells for telecommunication backup power that can be used in data centres and base stations.

To empower hydrogen energy research, Senergy is also partnering with Chinese research institutions, such as Tongji University, South China University of Technology, and Wuhan University of Technology, to develop better fuel cell systems and materials.

"Hydrogen fuel cells will be pivotal," adds Gao. "With our fuel cell technology, Senergy is aiming to actively address climate change and promote a green economy."