News
IDCC 2021:Vision Group REVO Series——Lithium battery power solution that knows UPS best
The 16th China Industry Annual Ceremony lasted for two days from December 21st-December 22nd in Shenzhen. Data Center Industrial experts and technical experts gathered in this ceremony, presenting the advanced lithium battery power solution. Vision Group REVO series, as the lithium battery power solution that knows UPS best, was invited to present the REVO lithium battery to the clients.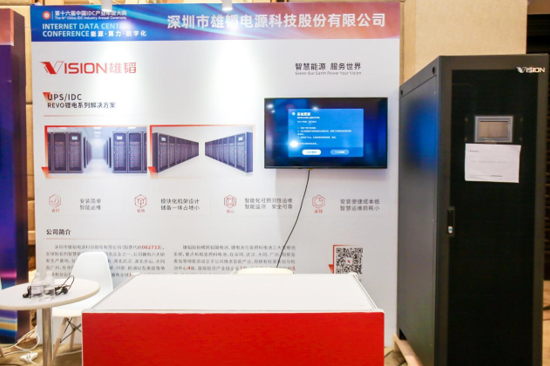 With the vigorous development of smart factories, artificial intelligence, AR/VR, and meta-universe, the data center has been given a great responsibility as the base of the digital economy, and it is also an important part of achieving the "Dual Carbon" goal. At the Vision booth, REVO's green energy-saving solutions received many compliments from the clients.
Power supply system is like the heart of the data center, providing reliable and stable power for equipment, and the battery is regarded as the sources of power supply system. With the advantages of long service life, small size, low load-bearing requirements, simple maintenance, environmental protection, reliability and stability, lithium battery will definitely become the first choice for data center backup power in the future.
REVO lithium battery system power solutions are intelligent, modular, and green, using self-developed LFP lithium iron phosphate high-rate batteries, which forms its unique advantages in cost, performance, life, and safety.
From hardware to software, Vision Group provides full-chain solutions from earlier-stage system support to latter-stage maintenance, aiming at saving time, money, space and energy for customers.
Saving time: Easy to install and intelligent to operate.
Saving space: Modular frame design and reserve integration
Saving energy: Intelligent and predictable operation, maintenance, and monitoring.
Saving money: Convenient installation and intelligent operation with low cost. Long battery life, TCO lower than lead acid.
It's a megatrend to use technological innovation and ecological transformation to achieve "Dual Carbon" goal. As the leading role in the industry, Vision Group will continue to innovate under many development requirements such as green, integration, and intelligence of data centers, helping the industry to upgrade and transform, and promote new development in the digital age.