News
Consul General in Ho Chi Minh City Wei Huaxiang and his party visited Vision Battery's Vietnam base
Recently, the Consul General of China in Ho Chi Minh City Wei Huaxiang, Commercial Counselor Wei Xichen, Director of the Overseas Chinese Office Huang Xiping and President of the Ho Chi Minh Branch of the China Chamber of Commerce Zhao Qian visited Vision Battery Vietnam Base for research, and were received by Vice General Manager of Vision Battery Vietnam Base Qiang Yinlong, HR and Administration Manager Liao Zhoupeng and other Chinese cadres.
At the seminar, Qiang Yinlong expressed a warm welcome to the visit of Consul General Wei Huaxiang on behalf of the Vision Battery Vietnam base, and then introduced the development history of Vision Battery and the operation of Vision Battery Vietnam base.

Mr. Wei expressed his high appreciation for the global layout and achievements of the Vision Battery, and fully affirmed the achievements made by the Vietnamese company in Vietnam so far.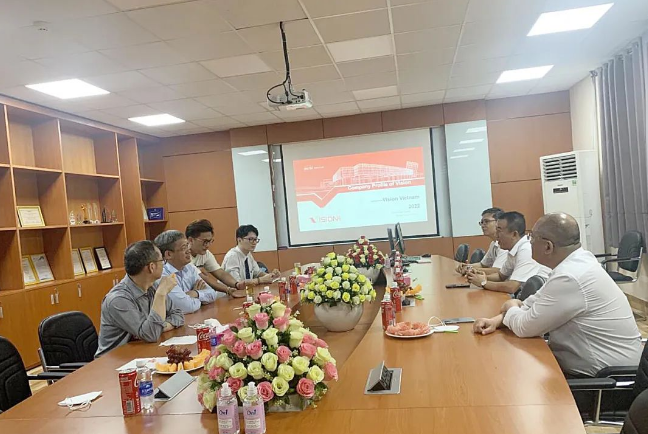 At the meeting, Wei Huaxiang introduced the spirit of the 20th National Congress and the meeting between the two General Secretaries of China and Vietnam, pointing out that the relationship between China and Vietnam is steadily reaching a new level and Chinese enterprises in Vietnam should take advantage of the situation and seek development, encouraging their staff to learn and understand Chinese culture and tell the Chinese story in practical action.

The friendship between China and Vietnam has a long history and the partnership is long-standing. As an important overseas production base for Vision Battery, the Vision Battery Vietnam base has been growing year on year since its completion, enabling more customers around the world to benefit from Vision Battery's new energy solutions. At the same time, we also actively participate in the local economy and fulfill our social responsibility. Relying on the Group's advanced technology and high standard of management, we provide comprehensive quality services to our customers at home and abroad. In recent years, we have been awarded the "2020 Reputable Export Enterprise" and "2019 Trusted Export Enterprise".

The wave of energy reform is rolling in, and we are full of confidence in the future to continue to write brilliantly. Vision Battery is looking forward to working with more local partners to innovate and serve the Vietnamese market with mutual benefits. We will contribute to the global response to climate change and build a green low-carbon life.