News
A gift at the end of this article: Shenzhen has released heavyweight policies that will benefit these industries!
Recently, Shenzhen released opinions on the development and growth of 20 strategic emerging industry clusters and 8 cultivation and development of future industries, among which the action plan for the development of new energy industry clusters was jointly released by multiple departments in Shenzhen. The Action Plan for Cultivating and Developing New Energy Clusters in Shenzhen (2022-2025) (the document) proposes that the new energy industries referred to in this action plan mainly include nuclear energy, smart grid, solar energy, energy storage, natural gas and its hydrate, wind energy, hydrogen energy, geothermal energy, ocean energy and other fields.
The document deploys Shenzhen's key projects in the field of new energy, and the work in the field of hydrogen energy specifically includes.
Hydrogen
Hydrogen energy industry cultivation project. Relying on the city's universities and colleges to prepare for the establishment of the Academy of Hydrogen Energy, we will carry out major technological breakthroughs in hydrogen energy and the introduction and cultivation of top talents. Support the further development of innovation carriers such as Guangdong Fuel Cell Reactor Engineering and Technology Research Centre, Shenzhen Hydrogen Energy Safety Engineering and Technology Research Centre and Shenzhen Hydrogen Energy Key Laboratory. Plan to build a hydrogen energy standard research platform, a public service platform for hydrogen energy testing and experimentation and hydrogen energy safety operation monitoring. We will carry out research on green, efficient, low-cost and large-scale hydrogen production technologies, break through high-density and high-safety hydrogen storage technologies, and lay out a number of technology research projects focusing on key materials and core components of electric reactors. The research of next-generation hydrogen production technologies, such as seawater hydrogen production, high-temperature solid oxide electrolytic water hydrogen production and nuclear energy high-temperature hydrogen production, will be laid out in a forward-looking manner. Planning and building Shenzhen International Low Carbon City and Longhua Quyuling Hydrogen Energy Industrial Park, accelerating the pace of industrialization of advanced technologies and equipment, and moderately increasing the scale of the industry. Actively promote the demonstration of hydrogen energy applications in emerging and cross-cutting areas such as transportation, distributed power generation and drones.

Hydrogen energy is of great importance to China in achieving carbon neutrality. It is a clean energy source in itself, and also serves as an energy carrier, introducing wind and light energy into the energy system on a large scale, not only guaranteeing the supply of low-carbon electricity on a large scale, but also providing a solution for adapting to the flexible electricity demand of the end-use sector, bringing a "godsend" to China's net-zero emission energy transition.

Hydrogen fuel cell is the core development strategy of Vision. Vision Hydrogen has completed the layout of key links in the hydrogen energy industry chain, such as hydrogen production, membrane electrode, fuel cell power stack, fuel cell engine system and vehicle operation. At the same time, the company has invested in research and development in various fields such as low platinum-carrying catalysts, membrane electrodes and aluminum hydrogen production, and has achieved milestone results.



The paper's work in the area of energy storage specifically includes.
New energy storage development project. Continue to grow the new energy storage industry system with electrochemical energy storage as the mainstay. Broaden the procurement channels of raw materials for electrochemical energy storage, and encourage leading backbone enterprises to actively layout upstream mineral resources. Promote the development of national advanced battery materials industry clusters, and develop key battery materials such as high safety, low cost and long life battery positive and negative electrode materials, high temperature resistant and low resistance diaphragms, and high conductivity electrolytes. Strengthen the research and development of key technologies in battery modules, converters, energy management systems, system integration, etc., lay out ahead of time next-generation frontier battery technologies such as solid-state batteries, and promote the development of the industry towards the high-end of the value chain. Improve the energy storage standard system, focus on promoting energy storage equipment manufacturing, gradual utilization, safe operation and maintenance and other fields to carry out standard development research. Combine the power supply side and grid side energy storage systems with the demand for peak shaving and valley filling on the power grid, and build user-side energy storage systems with data centres, 5G base stations, charging facilities, and industrial parks as application scenarios, according to local conditions. Take distributed energy stations as the main form, supported by advanced energy storage technology, to build multi-energy complementary integrated energy demonstration projects. Study the price incentive mechanism supporting the development of energy storage and distributed energy, and explore support policies such as green electricity tariffs. (Municipal Bureau of Industry and Information Technology, Science and Technology Innovation Commission, Development and Reform Commission, Commerce Bureau, State-owned Assets Supervision and Administration, Market Supervision Bureau, etc. are responsible for their respective responsibilities)
Energy storage is the core technology and key equipment basis for building a new power system with a gradually increasing share of new energy, guaranteeing China's energy security, strongly supporting the strategic, fundamental and pioneering industries of economic and social development, and promoting the achievement of carbon peak, carbon neutral goals and seizing new heights of international strategies.
Known in the industry as the most knowledgeable lithium battery for UPS, Vision REVO has rapidly spread to the data centre industry, helping to upgrade and transform the industry and making a positive contribution to achieving the double carbon goal (carbon peak and carbon neutral).
Easter egg
Recently, Tang Tao, vice president of Vision shares and general manager of Vision Hydrogen , was interviewed by Shenzhen Business News about the "Shenzhen 20+8 industry clusters" new energy representative enterprises special series. The development of manufacturing clusters is of great importance to the competitiveness of regional economies. Click on the image for details.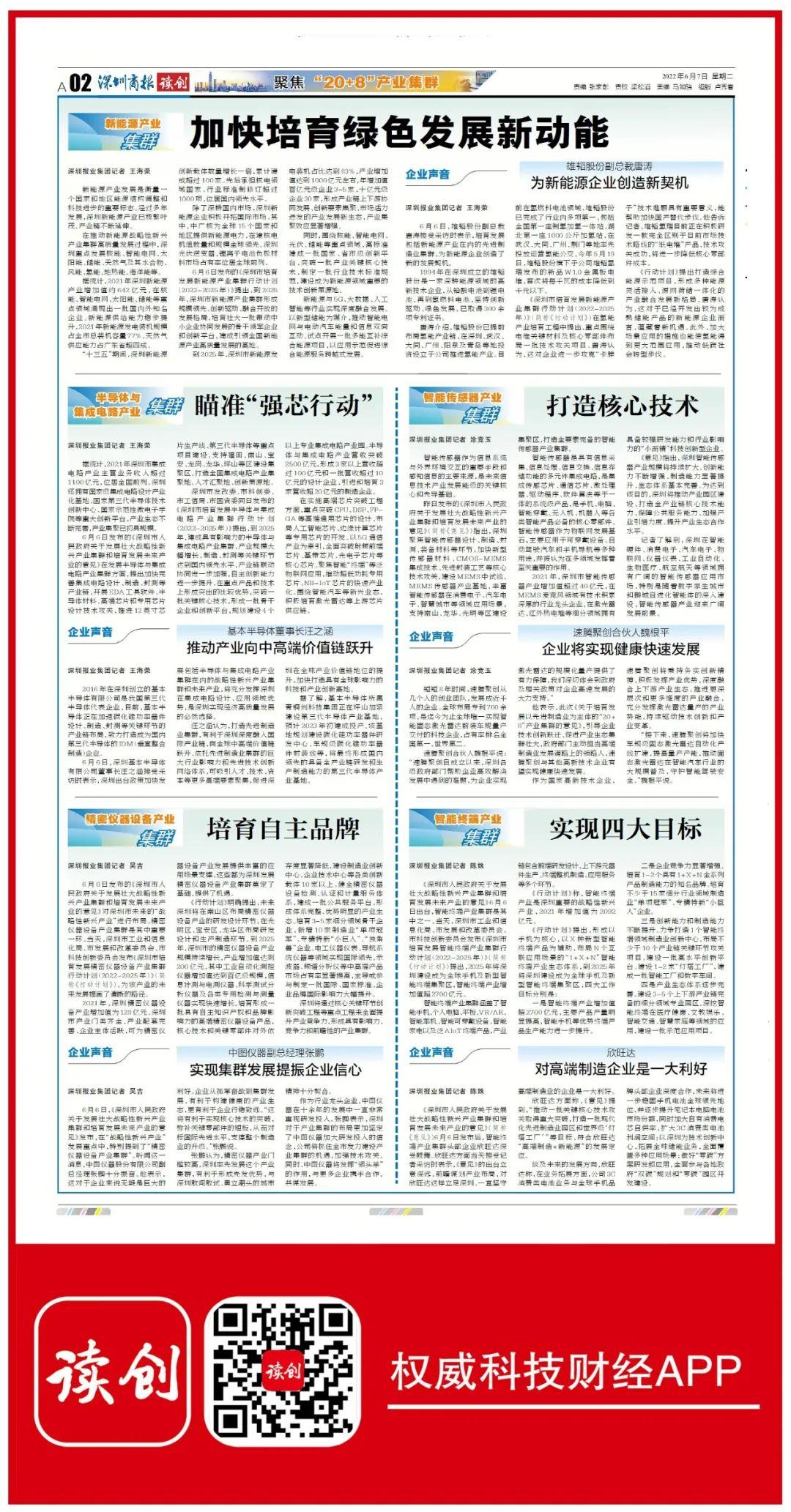 Interactive topic: "Which industry would you most like to see Vision hydrogen fuel cells or lithium batteries enter? Or in which scenarios would they be used?" .

Leave a comment at the end of the article, and the top three comment likes will each receive a surprise gift from 18:00 on 9 June 2022 to 12:00 on 14 June 2022. (Gift distribution may be delayed in some areas affected by the epidemic)