News
2021 GaoGong Hydrogen Power Summit:Vision Group won the technical contribution award of fuel cell system!
From September 13 to 14, 2021, the "2021 GaoGong Hydrogen Power Fuel Cell System Technology and Application Summit" jointly titled by Vision Group,was grandly held in Shanghai, China. The conference involved multiple links of the industrial chain such as vehicle, fuel cell, key components and test equipment. More than 600 industry experts, enterprise leaders and investment elites attended to discuss the future development of hydrogen energy.

On September 13, at the opening ceremony, YunXiong, chairman of Vision HydraV, was invited to deliver a speech and delivered a keynote speech on "hydrogen fuel cell solutions help achieve double carbon goals" during the meeting.
Yun Xiong: the outlet of hydrogen energy industry has come, but whether it can "fly" at the outlet requires technology on the left and capital on the right. Enterprises with two forces can fly high and far. If enterprises want to go long in the hydrogen energy industry, they need to practice their internal skills, based on doing a good job in technology and products. There is a saying that "success doesn't have to be in me, but skill doesn't have to be donated".The hydrogen energy industry is at the outlet, success must be in you and me.
Discussion topics in the roundtable dialogue session of the opening ceremony: "How to dig deeper into the prospects of fuel cell commercial vehicles? When will fuel cell passenger vehicles arrive?" and "How can the vehicle and fuel cell companies work closely to design fuel cells cars that meet the needs of users?", "what is the technical path to improve the performance of fuel cell systems and stacks? What are the requirements for materials?" and other topics to conduct in-depth discussions and exchanges. Mr. Xiong Yun, chairman of Vision HydraV, shared his valuable views.
Dr. Xiong Yun said: "We improve the performance indicators of the engine with three main points: one is efficiency, the other is life, and the third is price." By ensuring longevity, efficiency, and price, the product has the ability to continue to promote and compete. These indicators are divided into the technical layout, including stacks, system integration, parts, quality management, data analysis, etc. To improve the performance of the engine system with technology, and to reduce the cost through technology is the kingly way.
On September 14th, during the summit, HongChen, vice president of Vision Group, delivered a keynote speech on "The Industrialization Process of Vision Senergy Fuel Cell Stacks" during the meeting.
Hong Chen said that to achieve high-quality, cost-effective, and high-safety stacks, users must buy and use them with confidence.We hope to cooperate with the upstream and downstream of the supply chain to conduct alternative research on localization, and conduct real-time detection and operation feedback adjustment in combination with the system. In the future, fuel cells will tend to be highly integrated and modular.
At the special round table dialogue of the closing ceremony, brainstorming was fiercely launched. The topic of this discussion: what are the elements of the commercialization development of fuel cell vehicles? How can enterprises and investment institutions grasp the opportunities in the demonstration period? HongChen, vice president of Vision group, made a wonderful sharing.
Hong Chen : we believe that fuel cell enterprises should have user thinking and use thinking in product design and development, so as to make good products.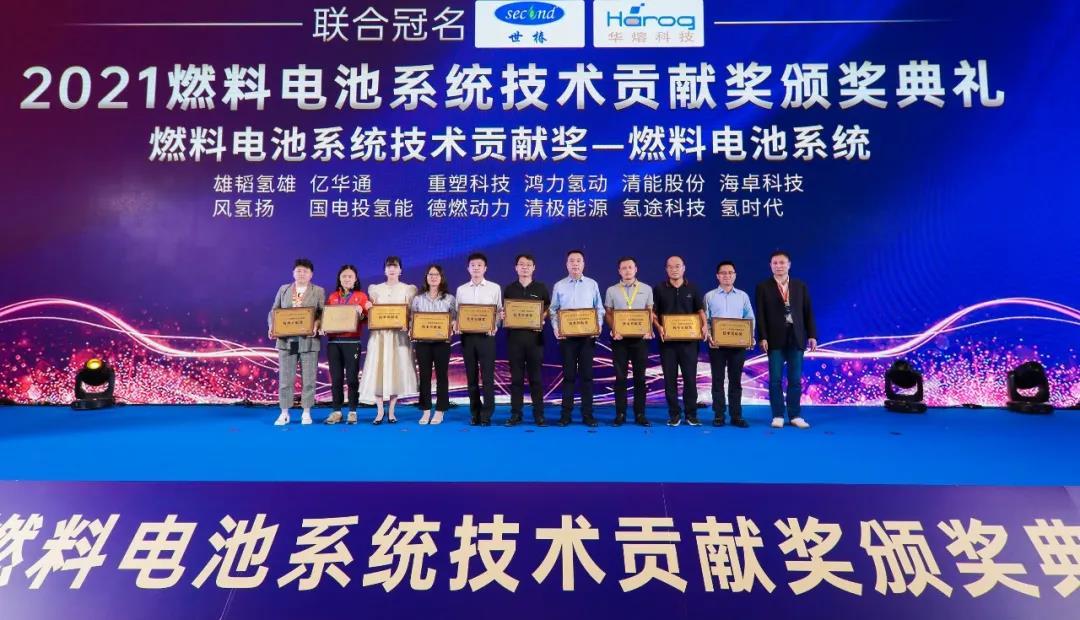 In the award ceremony, Vision HydraV and Vision Senergy both won the technical contribution award of fuel cell system!
Hydrogen fuel cell is the core development strategy of Vision Group. Vision HydraV has completed the layout of key links of hydrogen production, membrane electrodes, fuel cell stacks, fuel cell engine systems, and vehicle operation in the hydrogen energy industry chain. At the same time, the company has independently invested in research and development in various fields such as low-load platinum catalysts, membrane electrodes, and aluminum hydrogen production, and has achieved initial results.
At present, Vision HydraV's fuel cell engine system covers two series, VISH and VISTAH, and the power covers 52-130kW. It has been matched with 20 fuel cell buses, 40 fuel cell trucks/chassis and 4 application models in the field of construction machinery, which entered the Ministry of Industry and Information Technology announcement catalog currently, 240 fuel cell vehicles including buses, heavy trucks, and logistics have been put into demonstration operation, with an operating mileage of more than 10 million kilometers, and another 70 fuel cell vehicles are being delivered.
The first generation of A1 stacks with independent intellectual property rights has been commercialized by Vision Senergy this year, Vision Senergy's stack technology will reach a new level, and the latest 50-100kW A2 series stacks will be released with volumetric power density 4.0kW/L, and the J series stacks with high power greater than 150kW will be released.
As a global leader in fuel cell solutions, we will continue to use leading solutions, a complete industrial chain, and high-quality services to lead the industry to seize development opportunities, build a smart environmentally friendly hydrogen energy ecosystem, and strive to achieve the dual-carbon goal.