News
VISION PLM ProjectⅠHas been Successfully Carried Out
PLM (Product Lifecycle Management) regulates the whole product lifecycle (cultivation period, growth period, maturity period, recession period and end stage), plays an important role to the organization, storage and management of data design, development and manufacturing, with shorter time-to-market, lower product cost and higher quality.
As one of the largest VRLA battery manufacturer in the world, by constructing PLM platform, Vision aims to improve management on projects, product quality, components and structure, blueprint and documents and suppliers, etc. So that the design management platform can be informationized, design and data unified and standardized, repository constructed, and interior and exterior work unified.
Before PLM was carried out, Vision management has the following problems: 1) though systems and regulations have been relatively complete, there is a lack of effective execution to fulfill and methods to have them standardized and improved; 2) the main departments and relative supporting departments perform in matrix pattern, but there is still a lack of resources and effective ways to balance them; 3) when making offers, the real-time and accurate BOM structure cannot be checked. Therefore, customer demands cannot be met immediately. And once there are major changes, key men cannot be informed in time. So the project delivery time changes frequently; 4) with the expansion of Vision business and increasing of its staff, there is no effective methods and systems supporting the transmission of key knowledge and intellectual property.
According to the practical situation, this project insists in the principles of "overall planning, implementing by step, driven by profit and transmitting steadily", with the following four objectives:
(1) R&D project management
Supporting Vision normative, unified and standardized R&D project system construction
Strengthen the real-time control and management on plan and schedule of new products.
Balancing R&D resources configuration and increasing R&D project developing efficiency
Decreasing new products developing cost and shortening delivery time by agile project management
(2) Innovation Process system construction and knowledge management
Knowledge calculation of Vision R&D system, promoting the importance of product developing process
Establishing product configuration model, supporting fast product type selection, shortening delivery time
Establishing e-flow, and breaking the time and space limit
Establishing standardized, universalized and module system which can supports product fast innovation
(3) Product quality control
Controlling the normalization of workflow, and ensuring data producing process reliable and traceable
Ensuring products meet customer and market demands by demand match and alteration control of lifecycle
Building the development process tracking of product quality, and supporting the constant improvement of product quality
(4) Cost control
Realizing electric and visualized data evaluation, improving unification of interior and exterior resources, and reducing maintenance cost.
Shortening project cycle life and reducing possessed resources by reasonable project resource coordination and plan
Reducing repeated design, increase component reuse rate and reducing R&D purchasing cost by component reuse
In order to reduce project risk, the PLM project starts from R&D department. Once ProjectⅠbecomes mature, it will be promoted to subsidiaries. ProjectⅠmainly includes business like project R&D and components management, product structure management, blueprint and documents management, etc. The project Ⅱwill go further to ERP integration and application, overall alteration, configuration, customer requirement management, quality data management, process data management.
The PLM project will have product data updated, changing systems of company management model. The PLM functions are mainly as follows:
Vision takes the strong matrix management model, with every aspect closely related with each other, based on which the following PLM platform is created:
In PLM system, the decision makers can monitor several projects simultaneously, and master the task deliver status at any time.
Component classification and reuse management
The component classification and reuse module provides overall component management function: data development, sorting, validation, release, control and change management, achieving the result of lowering product cost, improving R&D productivity, and faster product time to market.
Overall change management
Through regulating the business procedure in advance, PLM system can alter design result, search the range caused by some change, send e-mails to related people, so that some influence may be concerned. For different PLM alteration type and process control, the PLM can choose the corresponding change process, like supplier change, version upgrade, component change.
Single BOM with multiple view product management
Before PLM is implemented, Vision takes the single BOM product structure model which means that a BOM tree integrates EMOB, PBOM and MBOM. In its initial development period, this kind of single BOM has advantages of rapid response, easy to accept, understand and operate. While with the rapid development of company scale and expansion of business range, disadvantages appear like information redundancy, unnecessary upstream design change forced by downstream information change (process, manufacturing), and difficulties in information transfer.
Yet the PLM system enables different functional departments to check product structure from their own perspective. And each view can be produced independently while keeping a good relationship among different BOM, thus avoiding repeat entry of product information, unified information, and the BOM disadvantages mentioned above. Meanwhile, the traditional model of blueprint-oriented work style is updated. Therefore, users are guided to the business transfer model with BOM list as important information delivery medium.
Blueprint and documents management
Through PLM, all documents are intellectually managed, including all product and project related technical documents, blueprints, design change documents, blueprint list, component list, technical regulations, and inspection documents. Flexible data model has not only satisfied company demands for various documentary classifications, but also contributed to future business expansion.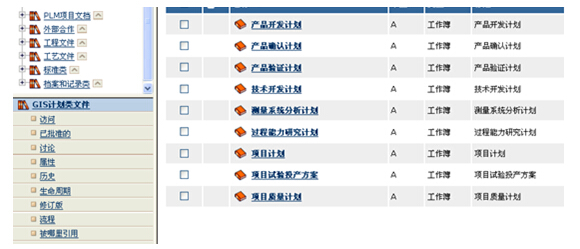 PLM system implementation benefit analysi
After PLM is successfully implemented in company, great benefit will be brought: qualitative benefits and quantitative benefits.
Qualitative benefits:
Benefits for top leaders: reduce inventory and maintenance cost, promote product quality image, shorten product time to market, reduce turnover of products and parts, decrease changing cost, and increase core technology and profit.
For departmental leaders: reduce parts quantity, enhance product and parts quality, shorten developing time, improve design reuse rate, reduce test rework, promote inter-departmental communication performance.
For operators, improve parts retrieval efficiency, increase BOM accuracy, reduce duplication of data entry, promote blueprint and data reuse, and shorten documents search time.
Expected quantitative benefits:
Reduce 20% design fault rate
reduce 15% product design cost
cut down 15% design time
increase 100% product information efficiency
reduce 75% human sign cost and interpersonal communication cost
The PLM successful implementation has a deep influence. While for the implementation of any new thing, there must be conflict between the new and the old. Though there may be some new problems for PLM, but we are firmly believed that as the constant improvement, users will find much pleasure from PLM. And Vision Group will make a tremendous breakthrough.