News
Vision Hydrogen Weekly丨Natural gas blended with green hydrogen to generate 14% less carbon emissions
Vision Battery is the executive vice president of the Hydrogen and Fuel Cell Branch of the China Battery Industry Association (CBIA). Based on the hydrogen and fuel cell industry and its industry chain, the Hydrogen and Fuel Cell Branch of China Battery Industry Association aims to build a high-end communication platform for upstream and downstream industry chain enterprises, collect representative opinions from the industry, undertake research work on topics planned by relevant ministries and commissions, promote the improvement of hydrogen and fuel cell-related technologies, and thus promote the progress of China's new energy industry.
【Policy】New Energy Vehicles Exemption from Vehicle Purchase Tax Extended to the End of 2023! Including fuel cell vehicles

On September 26, the State Ministry of Finance, the General Administration of Taxation and the Ministry of Industry and Information Technology jointly issued the Announcement on the Extension of the Vehicle Purchase Tax Exemption Policy for New Energy Vehicles, which clarifies that new energy vehicles with an acquisition date between January 1, 2023 and December 31, 2023 are exempt from vehicle purchase tax.
【Policy】Up to 30 million RMB to be awarded, Shanghai fuel cell vehicle demonstration and application special funds management measures for public comments

Recently, the Shanghai Municipal Economic and Information Commission released the "Shanghai Fuel Cell Vehicle Demonstration and Application Special Funds Management Measures (Draft for Public Comments)" to solicit comments or suggestions for revision.

According to the draft, the main contents are.

(i) Vehicle demonstration and application

The incentive funds will be given with reference to the national comprehensive assessment incentive points, and each point will be awarded RMB 200,000, of which the central incentive funds and the municipal incentive funds will be arranged in proportion to RMB 150,000, and the district where the vehicle is equipped with the fuel cell system manufacturer will arrange RMB 50,000.

(II) Vehicle operation

Fuel cell trucks and commercial commuter buses that meet the requirements for full vehicle demonstration and application must obtain an operating quota and travel more than 20,000 kilometres in the assessment year. Each vehicle with a total design mass of 12-31 tons (inclusive) will be rewarded 0.5 million yuan per year; each heavy-duty truck with a total design mass of more than 31 tons will be rewarded 20,000 yuan per year; each commuter bus will be rewarded 10,000 yuan per year, with a maximum of three years from the date of obtaining the operating quota.

(iii) Operation of hydrogen refuelling stations

The retail price of hydrogen must not exceed 35 yuan/kg. 20 yuan/kg for 2021, 15 yuan/kg for 2022-2023 and 10 yuan/kg for 2024-2025, to be arranged by the central incentive fund, the municipal incentive fund and the district where the hydrogen refuelling station is located in the ratio of 1:1:2. Arrangement.

Source: Shanghai Municipal Economic and Information Commission

【Industry】The world's first hydrogen platform for offshore wind power was inaugurated, the European green hydrogen industry goes one step further

On 22 September, French President Macron arrived at the site of the Saint-Nazaire project to inaugurate France's first commercial-scale offshore wind farm, with an installed wind power capacity of 480 MW, located 12 to 20 km off the coast of the Guérande Peninsula. Meanwhile, in the port of Saint-Nazaire, French hydrogen technology company Lhyfe launched its Sealhyfe offshore hydrogen platform project, part of the SEM-REV pilot project managed by Centrale Nantes, developed by Lhyfe and powered by floating wind turbines, combining solar, wind and wave energy, the world's first offshore green hydrogen production facility. world's first offshore green hydrogen production facility.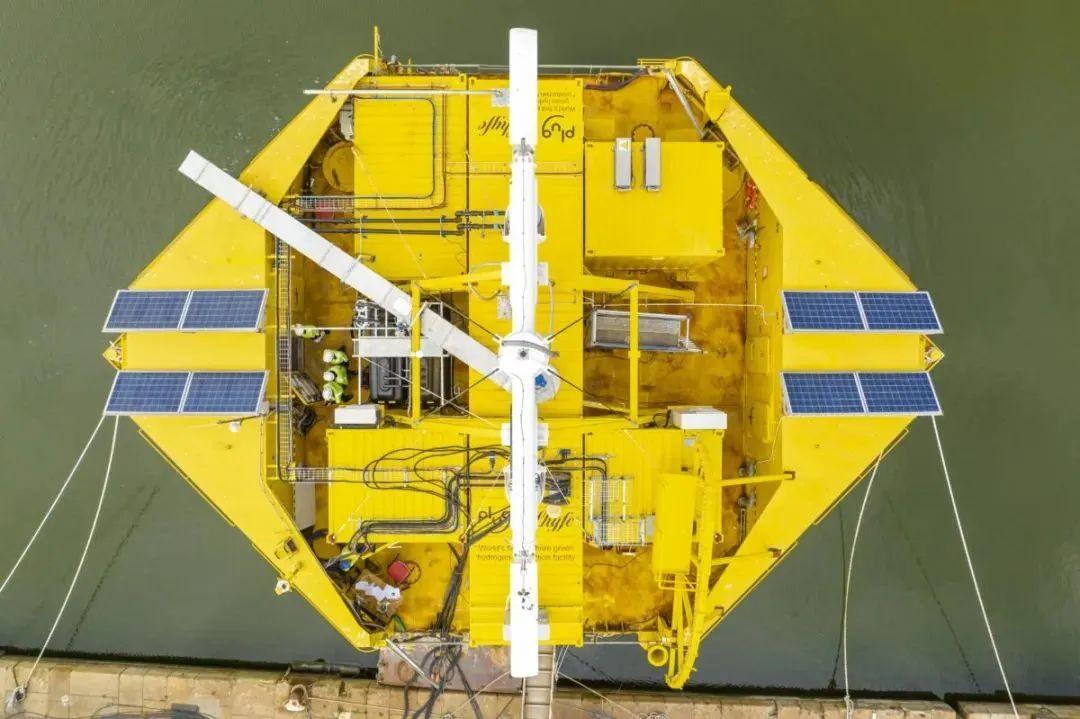 Information source: Hydrogen Cloud Chain

【News】 111 vehicles! Toyota Mirai to carry out demonstration operation activities such as online taxi in North, Guangzhou and Florida

On September 26, Toyota said that in order to accelerate the popularity of hydrogen fuel cell vehicles in China, Toyota plans to carry out 111 Mirai, through Guangzhou Toyota Motor Co., Ltd. in Beijing, Shanghai, Guangzhou and Foshan to carry out large-scale demonstration operation interactions including short rental cars, net-contracting cars and special line cruisers, and continue to contribute to low-carbon mobility. At the same time, it will also actively promote the planning and construction of 70MPa hydrogen refuelling stations with local governments and hydrogen energy enterprises to construct the infrastructure for the development of hydrogen fuel cell vehicles.

Information source: Hydrogen Cloud Chain

【Policy】 36,000 tons/year of hydrogen capacity for vehicles, 100 hydrogen refuelling stations planned! Guangzhou Hydrogen Energy Infrastructure Development Plan (2021-2030) released

On September 21, the Guangzhou Municipal Development and Reform Commission issued the "Guangzhou Hydrogen Energy Infrastructure Development Plan (2021-2030)" (hereinafter referred to as the "Plan").

The Plan states that the base year of the Plan is 2021, and in order to strengthen government guidance and coordination, and with reference to the Guangzhou Hydrogen Energy Industry Development Plan (2019-2030), the planning targets for the 14th Five-Year Plan (2021-2025) are: to build one new hydrogen production station, and to build more than three hydrogen production stations in total. More than 50 hydrogen refuelling stations will be built; 1-2 hydrogen production and hydrogen refuelling stations will be built, and 1-2 hydrogen storage stations will be built (or hydrogen storage will be considered in conjunction with hydrogen production stations, hydrogen production and hydrogen refuelling stations, or hydrogen refuelling stations). Hydrogen production capacity of 35,000 kg/day (13,000 tonnes/year) for fuel cells and hydrogen refuelling capacity of not less than 40,000 kg/day (15,000 tonnes/year) to meet the operational hydrogen needs of more than 6,000 hydrogen fuel cell vehicles.

The planning objectives for 2026-2030 are: to build more than 50 new hydrogen refuelling stations, to build a total of more than 100 hydrogen refuelling stations, to form more than 5 combined hydrogen production and refuelling stations, and to build 3-4 hydrogen storage stations. Formation of 100,000 kg/day (36,000 tonnes/year) of hydrogen production capacity for fuel cells, and formation of more than 100,000 kg/day (36,000 tonnes/year) of hydrogen refuelling capacity, which can meet the demand for commercial operation of hydrogen fuel cell vehicles.

Information source: Guangzhou Municipal People's Government


【Policy】Zhengzhou: Promote 2100 fuel cell vehicles and build 40 hydrogen refuelling stations by 2025

On September 26, Zhengzhou Bureau of Industry and Information released a reply on the proposal to accelerate the high-quality development of the city's hydrogen energy industry. The Zhengzhou city cluster includes 6 cities in the province and 11 cities outside the province, with the goals of promoting 4,445 fuel cell vehicles, building 82 hydrogen refueling stations and establishing an independent and controllable complete industrial chain by 2025. According to the division of tasks of the city cluster and the work requirements of the provincial government, by 2025, a total of 2,100 fuel cell vehicles will be promoted and 40 hydrogen refueling stations will be built, of which 500 fuel cell vehicles will be promoted and 10 hydrogen refueling stations will be built in 2022.

Information source: Zhengzhou Bureau of Industry and Information Technology


【Industry】Report on the first natural gas-doped green hydrogen power generation demonstration project in the US: 35% hydrogen doping and 14% reduction in carbon emissions

The US New York Power Authority announced on 23 September that it had successfully used green hydrogen mixed with natural gas to generate electricity, reducing the carbon emissions of retrofitting General Electric gas turbines.

According to a report on the hydrogen doping project dated 15 September, the Brentwood power plant has an installed capacity of 45MW and consists of GE LM6000 GT gas turbine generating units equipped with single ring combustion (SAC) technology. The New York Power Authority has experimented with fuel blends ranging from 5% to 44% hydrogen. Reports show that CO2 emissions were reduced by approximately 14% using a fuel blend containing 35% hydrogen.

The natural gas-hydrogen blends proved to produce electricity with lower carbon emissions and, under certain conditions, other emissions (including nitrogen oxides, carbon monoxide and ammonia) "also remained below regulatory operating permit limits".

The engine operated consistently throughout the test period and the combustion equipment was in good condition before, during and after the test.

Eric Gray, president and CEO of GE Gas Power, said that NYPA's Green Hydrogen Demonstration Project and others like it "are critical to demonstrating the important role hydrogen can play in reducing carbon emissions from power generation while also providing reliable and affordable electricity.

Source: Polaris Hydrogen Energy Network