News
Vision Hydrogen Weekly丨GAC and Tevva launch hydrogen car, Rolls-Royce starts electrolyzer project, Bill Gates says "YES" to hydrogen storage, Yi Gong Hydrogen Energy receives investment from Vision Group!
[Industry] Yi Gong Hydrogen Energy receives tens of millions of dollars from Xiongtao and others
Ltd. (hereinafter referred to as "Yi Gong Hydrogen Energy") completed a Series A financing round of tens of millions of RMB. This round of financing was raised by Ronghe Jiuzhi Carbon Zhonghe Private Equity Fund ("Ronghe Jiuzhi Fund"), Shenzhen Center Power Tech Co.,Ltd(hereinafter referred to as "Vision Group") and other industrial capitals, which is also the first financing since the establishment of Yi Gong Hydrogen Energy. This round of financing will be mainly used to develop new products, enrich product lines, expand production scale and increase delivery volume.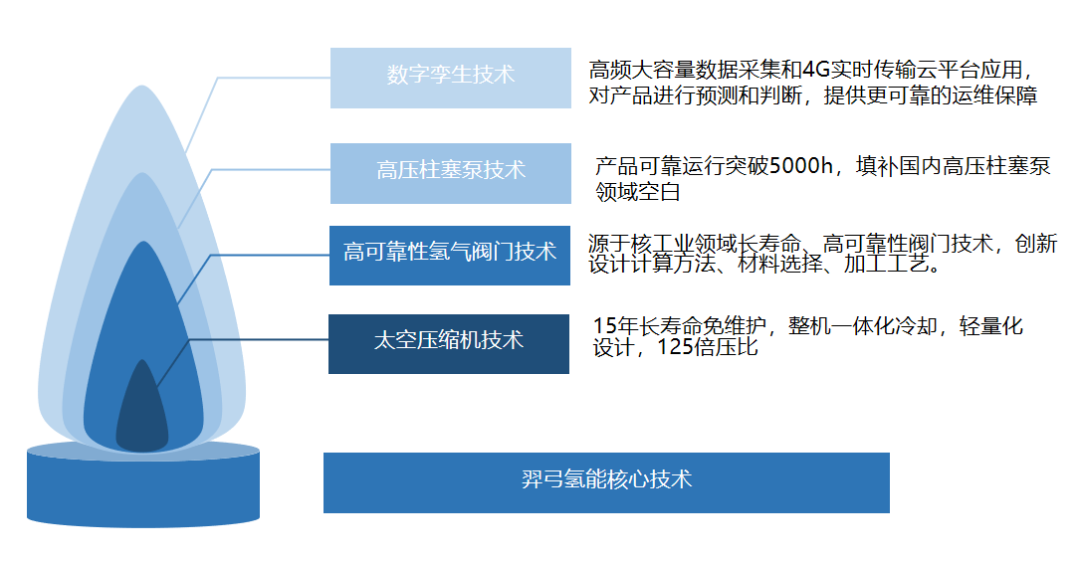 Established in 2015, Yi Gong Hydrogen Energy focuses on the independent research and development of hydrogen compressors in hydrogen preparation, storage and transportation, filling and recovery, and is committed to breaking through the "neck" technology. The company is the innovation leader in the field of hydrogen compressors. With a strong R&D team that is rare in the industry and the determination to insist on positive R&D and independent innovation, the company has applied for more than 30 invention patents, utility model patents and software copyrights after more than 3 years of dedicated research and development.

Yi Gong's original "liquid-driven diaphragm" hydrogen compressor effectively ensures absolute cleanliness of the gas in the compression process, and can achieve a compression ratio of more than 10 in a single stage; it can adapt to the special working conditions of hydrogen refuelling stations, such as "frequent start-stop, cold start, start-stop with load"; it can It can be connected in series and parallel through multiple stages of drive and booster units to achieve a very large displacement; it can achieve a very large pressure ratio through multiple stages of booster; it has fewer components and high maintenance convenience. At present, the company has marketed a number of products such as 45MPa and 90MPa compressors for hydrogen refuelling stations and 22MPa compressors for tube bundle vehicle charging, which have significant advantages in safety, reliability, flexibility and economy.

Information source: Hydrogen Cloud Chain
[News] GAC Group: First hydrogen hybrid vehicle to be launched in the second half of the year! Hydrogen MPV concept vehicle SPACE unveiled

Recently, at the 2022 GAC Technology Day, GAC Group released a number of research and development achievements that can be landed in mass production around a series of future technologies of new energy and intelligent yard, and unveiled the first hydrogen energy concept vehicle, Greenland SPACE. another official introduction, GAC Group hydrogen electric hybrid complete vehicle and the first pure electric supercar will be unveiled in the second half of the year.
In terms of appearance, the BAIC Hydrogen Fuel Concept Space features a full grille shape at the front and a rear windscreen that has been removed and replaced by a grille shape at the rear. The design of the roof is said to be inspired by Chinese architecture and there is a disc-shaped object in front of the roof, or an L4 level autonomous driving system.

Source: Hydrogen Fuel Cell Vehicle Network

[Industry] Rolls-Royce enters hydrogen energy market with electrolyzer project

Rolls-Royce is entering the hydrogen production market with the acquisition of a 54% stake in electrolysis stack specialist Hoeller Electrolyzer, whose innovative technology will form the basis of a new mtu electrolyzer range for Rolls-Royce's Powertrain division.
Hoeller Electrolyzer, based in Wismar, Germany, is an early stage technology company that is developing a highly efficient polymer electrolyte membrane (PEM) stack product for the efficient production of hydrogen for its Prometheus brand.

Dr Otto Preiss, Chief Operating Officer and Chief Technology Officer of Rolls-Royce Power Systems, said: "Through the development of our own mtu electrolyzer and the acquisition of a majority stake in Hoeller Electrolyzers, we are methodically enriching our hydrogen portfolio and ensuring mastery of this fascinating technology, which has enormous market potential and is not a pipe dream. This will enable us to offer a complete hydrogen solution and make a significant contribution to climate protection. Our complete hydrogen solution will enable our customers to store renewable energy in the form of hydrogen for use when needed or for further processing and sale."

Hoeller Electrolyzer was founded in 2016 and with its Prometheus brand is among the few highly specialised companies in the field of highly efficient PEM electrolysis stacks. The company's founder, Stefan H?ller, has more than 25 years of experience in electrolytic technology development and has registered 14 patents related to Prometheus brand products. Its special bipolar plate surface technology promises to significantly reduce the use of the expensive metals platinum and iridium as catalysts as well as to increase output pressure for ultra-efficient production.

Information source: Hydrogen Cloud Chain