News
Vision battery signs energy storage backup procurement project with Zhejiang Tower丨 Sharing the benefits of energy saving
Recently,Vision Group lithium battery team signed a contract with China Tower Company Limited Zhejiang and Tower Energy Company Limited Zhejiang (hereinafter referred to as: Zhejiang Tower) for the "China Tower Company Limited Zhejiang Branch 2022 Energy Storage and Power Backup Cooperation Service Procurement Project Agreement", with strong technical strength and perfect and meticulous services, with a contract amount of CNY 85564956.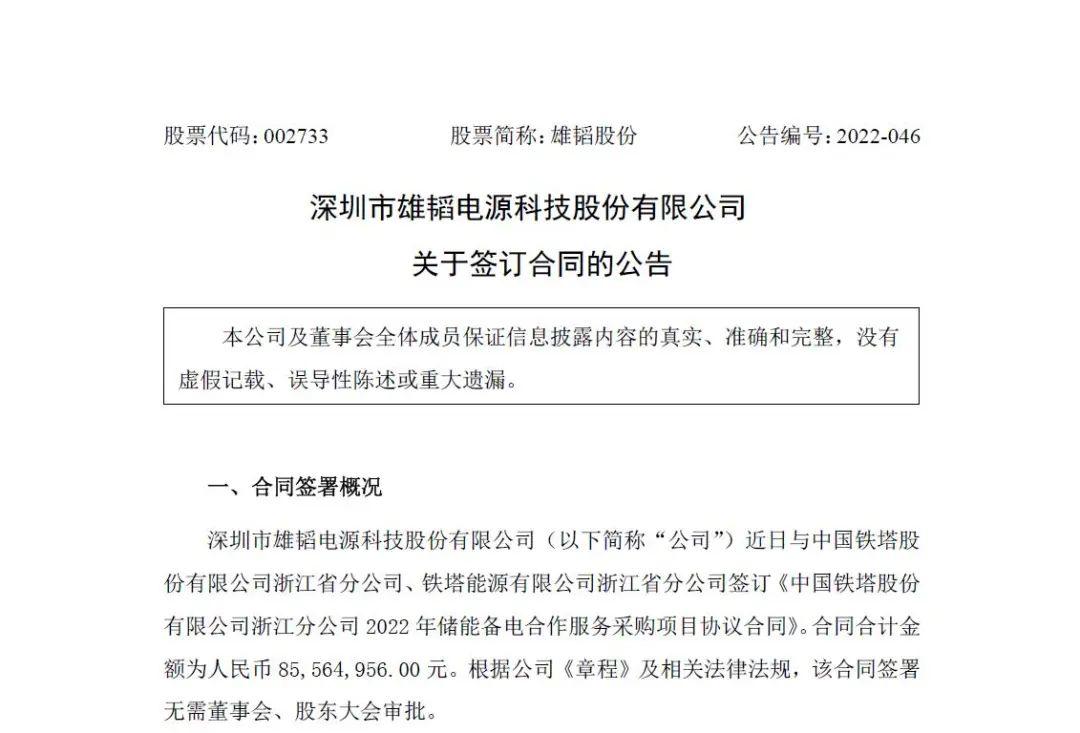 New energy storage is an important technology and basic equipment for building new power systems. The annual growth rate of this industry is above 50%, and by 2025, the scale of this track will reach about 500 billion, and by 2030, it is expected to reach 1.3 trillion.

In order to achieve the double carbon target and adhere to the green low carbon development road, the cooperation between Vision Group and Zhejiang Tower adopts the contract energy management (EMC) model, with the reduced energy costs to pay for the full cost of energy saving projects. A complete set of energy saving services. The result is "I invest, you save energy and benefit together".
"Power Backup + Energy Storage

The "Power Backup + Energy Storage" model transforms traditional industrial energy storage from a one-way consumption of power by backup batteries to a combined utility-battery powered energy storage + power backup service system, which not only provides power backup services, but can also use reserve capacity to participate in peak regulation, provide electricity price management and demand management, and participate in demand-side response. Vision Group has explored and collaborated on a new model of "power backup + energy storage" integration around China Tower's business transformation.
Vision Group base station energy storage solution

The Vision base station energy storage solution innovatively adopts DC stacked energy storage batteries, simply adding a new set of energy storage batteries in the original server room, and managing and maintaining them through the intelligent lithium storage platform. It can achieve peak shaving and valley filling, reduce electricity costs, low carbon and energy saving.
Intelligent lithium storage platform

The smart lithium storage platform developed by Vision Group is equipped with equipment access and management capabilities. The page design includes: site summary, equipment management, site management, time-sharing strategy and one-key start-stop entrances, etc. The site summary can view the accumulated charging and discharging power and electricity charges in the platform, site energy storage efficiency and equipment operation status.
The outstanding market performance is attributable to years of technology accumulation and innovation strength. Xiongtao's energy storage product business includes UPS uninterruptible power supply, IDC data centre, light storage and charging integration, home energy storage, energy storage power station, energy storage system operation and maintenance, etc. The business type covers product development, solution solution, system integration, investment and operation, etc. Vision energy storage solutions can not only provide customized products to customers, but also provide complete solutions according to customer needs. All solutions combine with laddering technology, adopt integrated and modular design, low cost, high stability, high safety and can be applied to a variety of battery installations.

As a leader in new energy, Vision Group actively promotes the development of low-carbon energy saving, and this cooperation marks a new breakthrough in the field of smart energy storage and power backup market. Looking ahead, Vision Group will continue to innovate to help customers and partners achieve low-carbon goals and promote the sustainable and healthy development of the industry.