News
Good news丨Vision HydraV won many industry awards!
On January 7, at the 2020 TrendBank Award Ceremony held by TrendBank Hydrogen&Power, Vision Group won the Best Investment Force Award, and its subsidiary, Vision HydraV won the Annual Market Force Award and the Future Award.
Take the lead in realizing the layout of the entire fuel cell industry chain
Vision HydraV has laid out a complete fuel cell localization industrial chain from engine system integration to its core components. Set up subsidiaries in Wuhan, Guangzhou, Shanghai, Datong, Yangquan, Qingdao and other places to achieve coordinated regional development.

Application development is at the forefront.
In 2020, Vision HydraV has overcome all obstacles and move forward, leading the industry in fuel cell product research and development, market development, demonstration operations, and application scenarios.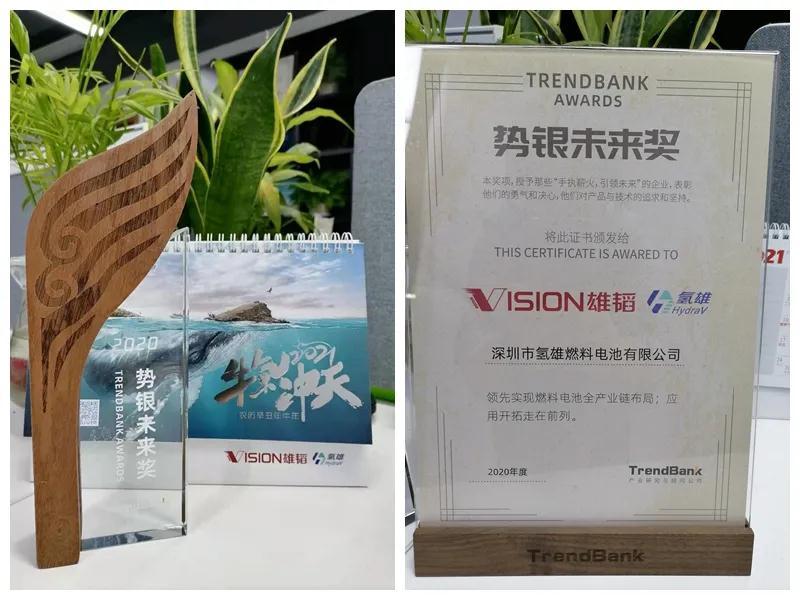 In terms of products, breakthroughs have been made.
VISH-130A fuel cell engine is the first 130kW high-power fuel cell engine that has passed the strong test of the National Testing Center. The VISTAH series fuel cell engines cover 60kW-120kW, equipped with independent stacks and localized core components. Senergy A1 graphite bipolar plate stack has a design life of more than 20,000 hours and a volumetric power density of 3.5kW/L.
Vision forklift hydrogen energy &lithium battery composite power supply is clean and environmentally friendly, safe and reliable. The fuel cell integrated controller has outstanding features such as high integration and modular control.
Vision HydraV has developed the first customer digital direct-connected hydrogen energy supply maintenance system (intelligent maintenance), with remote diagnosis and monitoring, and real-time support and service for customers 24 hours a day.

Vision HydraV has repeatedly achieved good results in the market and vehicle operation, and achieved a number of national and regional firsts. The first batch of hydrogen 6*4 heavy trucks in the country, the first batch of fuel cell buses in Jingmen, Hubei, and the first batch of fuel cell buses in Guangzhou. At present, a total of 240 fuel cell vehicles have been put into demonstration operation or delivered in Wuhan, Datong, Shanghai, Guangzhou, Yangquan, Jingmen, Foshan and other places, and the accumulated mileage has exceeded 6 million kilometers.
In terms of application scenarios, breakthroughs had been achieved. Vision HydraV has developed the country's first hydrogen energy straddle carrier, the country's first hydrogen energy AGV, and the country's first hydrogen energy loading vehicle; the first hydrogen energy dreg truck of the country has successfully entered the 339 batches of announcement of the Ministry of Industry and Information Technology.
In terms of promoting the development of the hydrogen energy industry, Vision HydraV has signed cooperation agreements with a number of upstream and downstream companies in the industry chain, dedicated to the promotion of the supply chain to application scenarios.