News
Company News
Vision Vietnam base won the title of "Export- trusted Enterprise" by the Ministry of Industry and Commerce of Vietnam in 2019
On March 13 this year, the Ministry of Industry and Commerce of Vietnam launched the selection of export-trusted enterprises in 2019 as scheduled. After the submission of materials, the review and report of the provincial industry and commerce bureaus, the review and publicity of the Ministry of Industry and Commerce of Vietnam, the final result was in public announcement on August 24th.
With its excess sales performance, good corporate reputation, and high-quality products and services, Vision Vietnam base has stood out among many companies and won the title of " Export -trusted Enterprise", becoming one of the 10 companies in Dong Nai Province, Vietnam that received this honor.
Selection of Export-trusted Enterprises by the Ministry of Industry and Commerce of Vietnam
Export-trusted enterprises are selected and issued by the Ministry of Industry and Commerce of Vietnam in accordance with the official document of the Vietnamese government 911/QĐ-BCT "Regarding the system for selecting export-trusted enterprises".
The award selection must meet the following conditions at the same time: the export amount exceeds the fixed amount, the tax obligation is fulfilled, there is no unpaid tax (export tax, value-added tax, income tax), no fines in the current year, and no major illegal acts (regarding import and export, taxation, environmental protection etc.), and a confirmation letter from the provincial government management agency (customs, taxation, environmental protection department), etc., are indispensable.
Among them, the export value of the previous year is one of the most important conditions of the award, and the industry quota in 2019 is 10 million U.S. dollars. With a sales volume of 176.6million dollars, the production base in Vietnam far exceeds this amount.
Mainstream media in Vietnam, such as "Dong Nai Daily", "Vietnam Labor Daily", "Vietnam Industry and Commerce News", "Vietnam Business News", etc., made detailed reports on this immediately.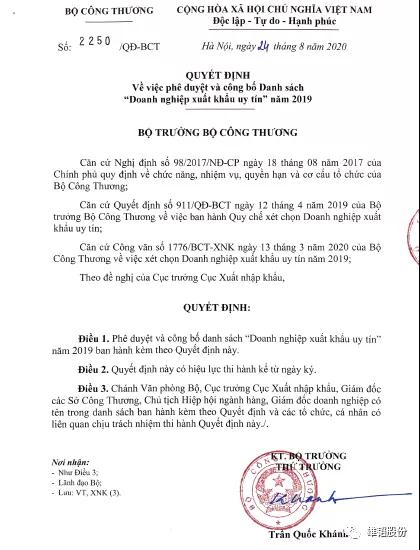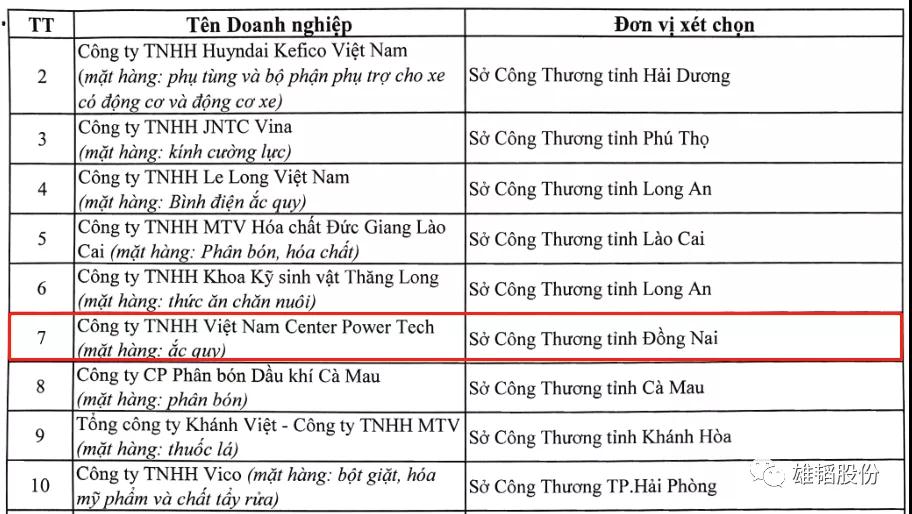 Industry leader
Vision Group is a global leader in smart energy industry and a leading force for export-oriented enterprises in China's battery industry. Vision Vietnam Base, as the main overseas production base of Vision Group, entered Vietnam in 2007 and has gradually emerged among many high-tech companies. With hard work, continuous breakthroughs and innovations in obscurity, it has embarked on the road of development and growth, becoming a leader in the industry.
At present, the total number of Vision Vietnam base is 1,500, and the annual production capacity is 2.8 million KVAH. Sales have grown steadily year after year. Sales in 2017, 2018 and 2019 were: 151.1 million dollars, 182.7 million dollars, and 176.6 million dollars.
Ingenuity forging dreams
Vision Group was established in 1994 and officially entered the overseas market in 1998. Vision Group has always used global standards and global systems to build a global brand belonging to China — VISION, whichoperates at a global levelin terms of technology, products and marketing,
It has achieved extraordinary results in brand building, product innovation and technology research and development projects. For example, Vision REVO has demonstrated technical concepts Vision in a brand-new attitude to meet the higher pursuit of UPS lithium battery solutions in the majority of data centers.
The Vision Vietnam team is practicing the spirit of craftsmanship, striving for perfection, and building a world-class team, allowing users to appreciate the charm of product technology and experience high-quality services in the process of product use.
No pain no gain. Vision Vietnam base was rated as a trusted company in 2019 by the Ministry of Industry and Commerce of Vietnam. It is not only the Vietnamese government's full affirmation of the Vision Vietnam base, but also the embodiment of confidence and style of the Vision brand. Vision Group will live up to its trust and continue to lead the smart energy solutions!
Vision Vietnam Base
Sales Contact
Sevice Hotline